A new report from CoreLogic has recently been released on the suburbs closest to capital cities with a median house value of less than $500,000 – but what do you have to give up for housing affordability these days?
Especially for Sydney, these suburbs are significantly out of the CBD and they also come without basic human needs such as reliable water and sewerage, or even road access.
The Nation's Capital is on the rise and there is indeed only one suburb with a current median house value below $500,000. This lack of affordable options means low budgets have no other option below $500,000 than Charnwood.
Charnwood is 12.2kms out of the CBD and is an older suburb built according to the Radburn design scheme. The Radburn design scheme is somewhat infamous for attracting illegal activity due to all the houses facing into one another along narrow laneways, which have potential to obscure wrongdoers from the eyes of the law, and are relatively inaccessible with only one road going in and out. This mirrors the likes of Sydney suburbs such as Villawood and Minto whose residents sacrifice safety at the hands of the design blunder.
"Whilst Canberra offers some great buying opportunities for families, Charnwood is certainly a location that many buyers and investors hold caution around, and this is supported by the 2017 Crime Statistics from the ACT Government revealing that the suburb of Charnwood has double the incidents of break and enter, robberies and sexual assaults to that of any other location in the surrounding suburbs. This is what reflects in the more affordable price point. Compared to the neighbouring suburb of Melba, which has a median house price of $603,000 whilst Charnwood sits at just $451,000. A direct reflection of buyer sentiment."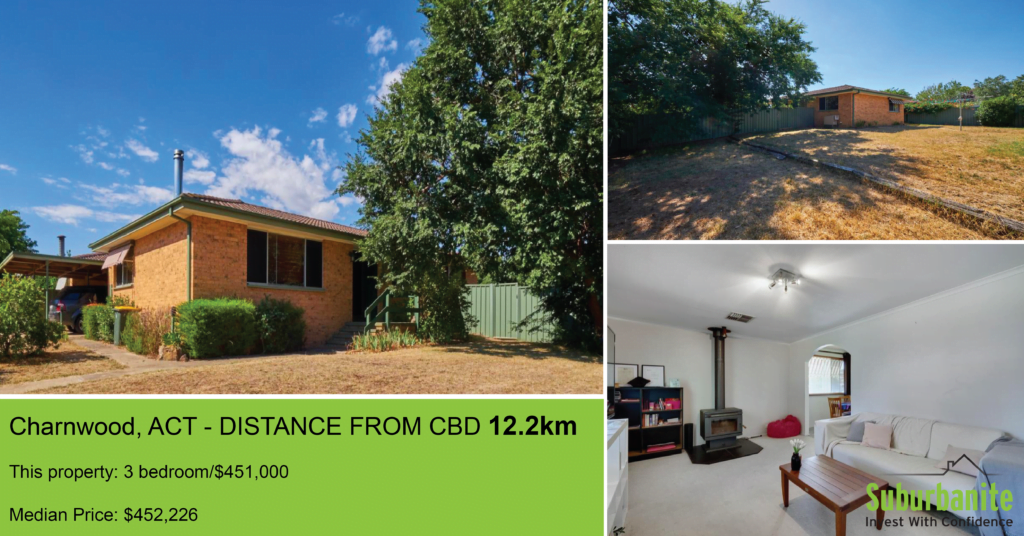 There's no secret Sydney property is expensive, and despite speculation that this is cooling down, at present the closest suburb to the Sydney CBD with a median house price under half a million is Bar Point.
Bar Point is 39.5kms from the CBD as the crow flies, but technically it's 53kms by car. However, the only road connecting Bar Point to the freeway is 10km of unsealed dirt, so even small luxuries like actual roads have to be thrown away in the pursuit of affordable housing. If you have a boat, Bar Point is just a 10-minute ride from Brooklyn – but that doesn't sound like a comfortable commute either.
"Residents of Bar Point will have the luxury of waterfront properties but will need to give up common services as water is via rain water collection tanks and sewerage on a septic tank," said Anna Porter.
"Weekenders enjoy the serenity of the suburb but residents are kept to a minimum with a population of only 60 people – at least there's' no risk of bad neighbours." Says Ms Porter.
"The suburb is also quite popular on holiday rental sites such as Airbnb with holiday-goers being enticed by advertisements for luxury glamping and arriving by boat for roughly $260 per night."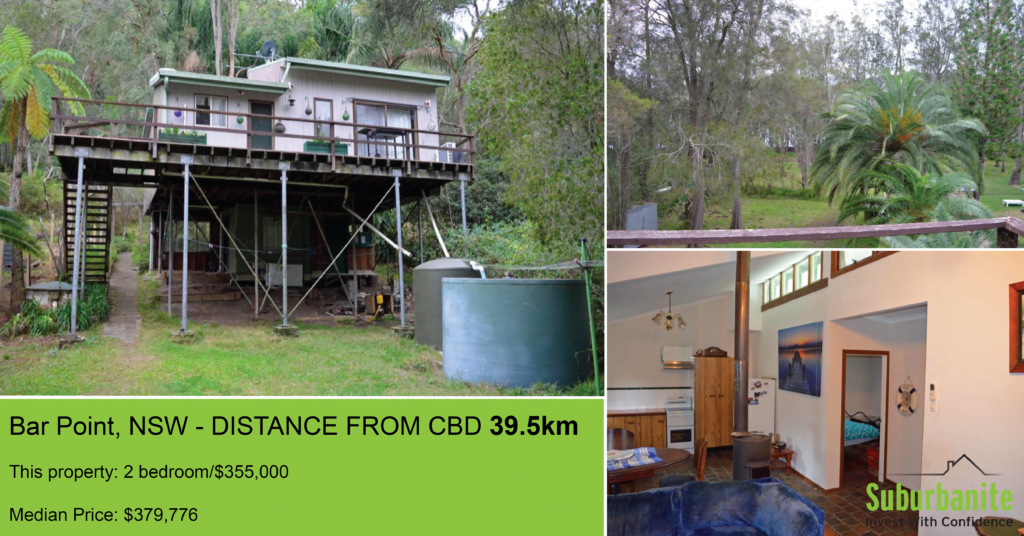 Further down the East Coast, Melbourne also proves challenging for commuters trying to be located near the CBD on a budget. In a suburb where 51% of the population identify with the Islamic religion (according to CoreLogic), Dallas has a median house price of $447,221.This suburb is right next door to the notorious Broadmeadows and is beginning to follow in its footsteps with 59% of the population being excluded from the labour force, "there is certainly some scope for gentrification of this area which will result in uptick for investors and home owners in the area, but the risk to many families is the cycle of local residents dropping out of the labour force. This can deter young families from the area and may slow the gentrification process." According to Porter.
"The good news is though, Dallas is 16.1km away from the CBD and has great public transport facilities right into the city for commuters," says Anna. "The suburb is at the beginning of gentrification and is likely to see increased growth in coming years as the surrounding suburbs are built up and flooded with new housing estates," Continues Porter.